Scaramucci Memoir of Ten Days in White House to Be Released in Ten Days
First-time author promises to "rock your world, baby."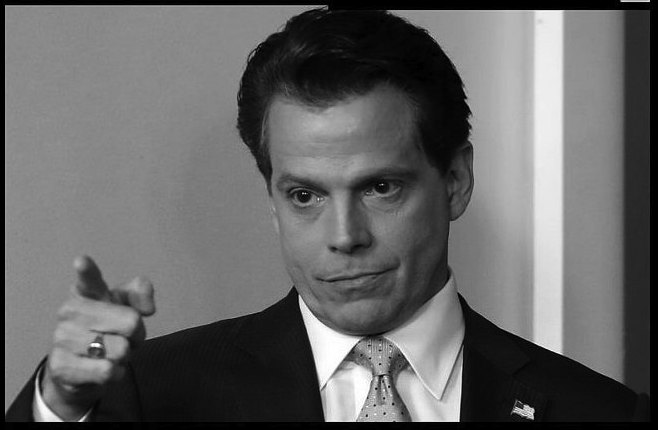 photo credit: FolsomNatural

HE BRIEF tenure of Anthony Scaramucci as White House Communications Director will soon be revealed in a tell-all memoir, to be released in ten days, according to Scaramucci himself.
"The Mooch is writin' it all down," he announced while waiting in line at a local deli. "My ten days will rock your world, baby. Corned beef on rye, make it seedless!"
The erstwhile communications director says he is writing one chapter per day of his memoir, tentatively entitled Ten Days That Rocked America's World, Baby.
"I am a machine," Scaramucci said. "I just pump this stuff out like a fuckin' Hemingway. I may even include an index; I may not. Hemingway never did a fuckin' index his whole life. Let's see how it goes. The Mooch likes to be spontaneous."
Chapters one and two are already "in the bag," according to Scaramucci.
"Those were the days," reminisced the author. "I really miss those times, gettin' in front of the podium in the press room, talkin' to you assholes about The Mooch's big plans for the future of White House communications and whatnot. I kinda enjoyed myself, if I'm bein' totally honest."
Scaramucci promises his memoir will hold nothing back.
"I don't mess around," said the first-time author. "You will be shocked, baby. Shocked! You thought Priebus was a pain in the ass, already, you know you did. Just wait 'til chapter seven! Chapter seven's all about that dumb asshole. America will thank The Mooch for getting rid of that fuckin' nut job with the crazy name, once America reads chapter seven."
The recent and former communications director would not confirm or deny rumors that he is in talks with movie executives about bringing his memoir to the big screen.
"I can't talk about that right now," said Scaramucci. "But I promise you this: you will be the first to know if The Mooch has a deal, all right? And I will give you a hint: I'm lookin' at someone to play me that rhymes with Jack Efron, okay? That's all I'm gonna say at the moment. But count on big things, baby. Count on it."