Michele Bachmann Proposes Renaming Thanksgiving 'Turkeys for Jesus Day'
Right-wing presidential hopeful claims she's got lots of support.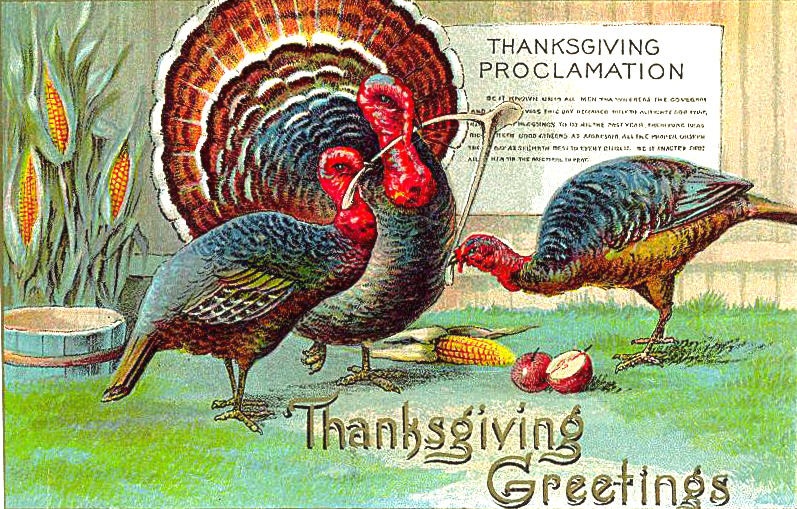 image credit: HopHopJingleBoo

URING A recent panel discussion in which Republican presidential hopefuls fought for top honors in the Christianity category, Michele Bachmann announced that she would present a bill to Congress "to make Thanksgiving a Christian holiday, the way the good Lord intended."
Newt Gingrich replied, "I thought of this back in '94, Michele, when you were just a local candidate peeking out of bushes in your opponent's front yard. But I concur."
The Congresswoman said she had spoken to a large number of colleagues and garnered considerable support for her bill, which, she added, "is so uncontroversial you'd have to be a godless atheist to vote against it. But I guess we'll find out who loves God and who doesn't come roll call!"
"I vote for God!" Rick Perry said. "God is my rock, and my salvation, and my . . . my . . . did I say 'rock' yet?"
Bachmann said her bill calls for Thanksgiving to be renamed "Turkeys for Jesus Day" to serve as a reminder "of all the things Jesus has given us, including the miracle of the supermarket meat section, overflowing this time of year with the Lord's frozen bounty of turkeys injected with salt and chicken broth. Praise His name!!"
Rick Perry said he would "walk arm in arm" with the Congresswoman "on her Turkey bill. I like the ring of it," the Texas Governor said. "And if it becomes law, I will personally deliver a Jesus turkey to every man, woman, and child on death row. Notice how I just named three things without missin' a beat."
Congresswoman Bachmann admitted that, in her family, "Thanksgiving is already called 'Turkeys for Jesus Day.' All of my twenty-six foster children know that Jesus is the Host of the Roast!"
"I thought it was thirty-four foster children," said Gingrich.
"If my bill doesn't make it to a vote," Bachmann continued, "my third act as President, after repealing Obamacare and unrepealing Don't Ask Don't Tell, will be to sign an executive order naming Thanksgiving 'Turkeys for Jesus Day'! Hallelujah!"
"Amen, amen, and amen!" shouted Perry. "That's three of 'em, right in a row!"